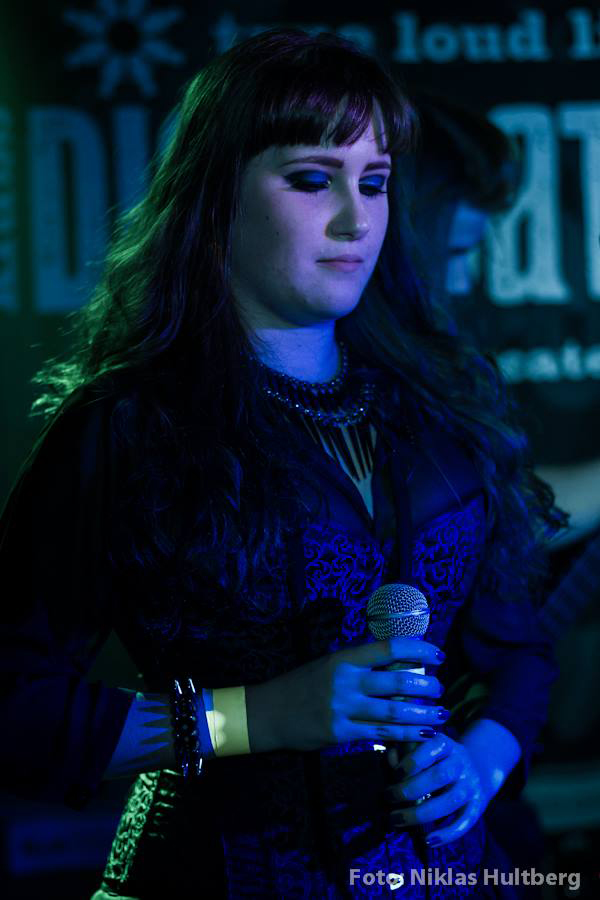 Personal
Name:
Cecilia Kamf
Birthday:
May 22
Place of residence:
Piteå, Sweden
Vices:
Computer games, sugar
Position in Lapis Lazuli:
Vocalist.
Musical influences:
Tarja Turunen, Cecilia Bartoli, Simone Simons, Amy Lee
Former musical projects:
Xhiria
Current musical projects:
Lapis Lazuli and Xhiria
Where I am in 10 years:
On a world tour with Lapis Lazuli or at the stage at Metropolitan in New York.
Lapis Lazuli related
Favourite song:
When Dreams Collide, Faith Forgotten, Darker Shade of Me, Close the Distance, Floating Away
Best gig:
So far, Wacken Metal Battle in Östersund (2014)
Best memory:
When Timo asked me to join the band!
Which band would you like to open for:
Nightwish, Epica, Within Temptation, Xandria, Tarja or Evanescence
Gear:
My vocal chords and an AKG C5
Favourite
Movie:
The Lord of the Rings, Robin Hood (2010), The Mortal Instruments, X-men Origins: Wolverine, Quest for Camelot and many more…
TV Show:
Game of Thrones, Buffy the Vampire Slayer
Book:
A song of Ice and Fire, The Mortal Instruments, The Black Jewels Trilogy, The Kingkiller Chronicle, Stormlight Archive, The Lord of the Rings
Food:
Lasanga, Beef Stroganoff, grilled tenderloin with risotto, turkey with mashed potatoes and gravy
Drink:
Water, Champange or a good Amarone.
Quote:
"You have the emotional maturity of a blueberry scone!" – [Buffy the Vampire Slayer]
Top 5 albums:
Insomnium – Since the Day It All Came Down
Insomnium – Across the Dark
Dark Tranquillity – Fiction
Nightwish – Century Child
Xandria – Neverworld's End
Song:
Insomnium – Weighed Down With Sorrow
Vocalist:
Tarja Turunen, Cecilia Bartoli, Simone Simons, Amy Lee
PC/Video game:
Dragon Age: Origins, Warcraft III, World of Warcraft